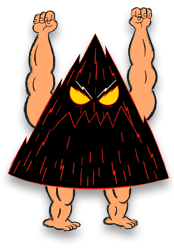 Voiced by Pat Fraley.
Secret Mountain Fort Awesome is a total monument to bro-hood that the guys live in. We couldn't call it awesome if it wasn't. That'd be illegal!
Unlike the traditional mountain, Fort Awesome is actually a half-mountain half-living organism that has the power and ability to move, destroy, and cause havoc. For taking such nice care of it, Fort would never harm the Bros. Fort considers the bros his family. Though, he does get mad at Festro for trying to break his relationship up.
So far, he only appears at Secret Mountain Fort Love.
Ad blocker interference detected!
Wikia is a free-to-use site that makes money from advertising. We have a modified experience for viewers using ad blockers

Wikia is not accessible if you've made further modifications. Remove the custom ad blocker rule(s) and the page will load as expected.