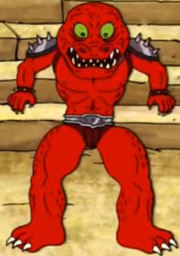 Red Dinosaur is a monster that resembles a red dinosaur that served as head general of Helmet Head's army. He ate Festro in the middle of Festro's empowerment speech. He met an untimely demise when Festro broke out of his stomach during a meeting with Helmet Head. He is voiced by Pat Duke.
Ad blocker interference detected!
Wikia is a free-to-use site that makes money from advertising. We have a modified experience for viewers using ad blockers

Wikia is not accessible if you've made further modifications. Remove the custom ad blocker rule(s) and the page will load as expected.