(This article is about Festro's Brocro sneakers.)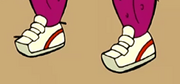 Festro wears two red and white Velcro (or Brocro as stated on the show) sneakers. According to his song in "Just for Kicks" he want to wear brocro because he was forced to play with his father's Brocro shoes when his mother would lock him in the closet. The Brocros mean very much to him and, he was willing to risk his AND his bros life just to get new ones. In a way, the Brocros were kind of his only friend as a kid. He is never seen without them, except in the episode "just for kicks"
Ad blocker interference detected!
Wikia is a free-to-use site that makes money from advertising. We have a modified experience for viewers using ad blockers

Wikia is not accessible if you've made further modifications. Remove the custom ad blocker rule(s) and the page will load as expected.